What F&B Are You?
You Are Mud Pie
You're the perfect combo of flavor and depth
Those who like you give into their impulses
You Are a Caramel Crunch Donut
You're a complex creature, and you're guilty of complicating things for fun.
You've been known to sit around pondering the meaning of life...
Or at times, pondering the meaning of your doughnut.
To frost or not to frost? To fill or not to fill? These are your eternal questions.
Cheese Pizza
Traditional and comforting.
You focus on living a quality life.
You're not easily impressed with novelty.
Yet, you easily impress others.
Your Candy Heart Says "My Way"
You love to be in love, as long as it means being showered with attention.
And no need for you to give anything in return - being with you is gift enough.

Your ideal Valentine's Day date: a first class trip to Hawaii

Your flirting style: witty and showy

What turns you off: having to "chase" someone

Why you're hot: you're more confident (and arrogant) than a rock star!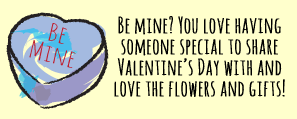 discover your inner candy heart @ quiz me
You are Milk Chocolate
A total dreamer, you spend most of your time with your head in the clouds.
You often think of the future, and you are always working toward your ideal life.
Also nostelgic, you rarely forget a meaningful moment... even those from long ago.
You Are a Strawberry Daiquiri
You're a fun, playful drinker who loves to party.
You may get totally wasted, but you're always a happy drunk!
You Are a Classic Martini
You area sophisticated drinker, who knows that simple quality is over-rated.
You're a knowledgeable drunk, but sometimes you're a know-it-all when you're blasted.

You should never: Drink and gossip. You tend to forget who's standing right behind you!

Your ideal party: Has a real bartender. But no one mixes a better drink than you.

Your drinking soulmates: those with a Chocolate Martini personality

Your drinking rivals: those with a Margarita Martini personality
You Are an Espresso
At your best, you are: straight shooting, ambitious, and energetic

At your worst, you are: anxious and high strung

You drink coffee when: anytime you're not sleeping

Your caffeine addiction level: high
Snickers
Nutty and gooey - you always satisfy.


discover what candy you are @ quiz me





find your inner PIE @ stvlive.com



You Are Chocolate Ice Cream

Dramatic. Powerful. Flirty.